Poultry Houses :
>
The Swinford coop for garden ducks or chickens
This chicken or duck house will take up to 6 medium sized birds.
Ideal for home egg production.
This image is of the house set up for ducks, with No nestbox. For chickens you need to include the external nestbox option
Standard features now include : Slide Out Floor; Hinged timber and Coroline roof, perch rail, pophole, fixed full ventilation, solid timber floor.
Swinford Chicken house
PRICE £190.00 Carriage £36.00
(delivery surcharges may apply to some locations)
Contact us to place your order or to ask more questions, we are happy to help.
Winter 2018/9 we have one ex display Swinford with nestbox here at Kintaline .. collection only
Size 89 x 84 x 89 cm high max. (35″x 33″x 35″high max.)

OPTIONAL EXTRAS click to see details of options:
External Nest boxes(12″ deep) : £56.00
Carry handles : £11.00
Free standing run 6ft x 3ft : £130.00

Assembly instructions pdf
We also offer a specially designed Swinford Duck House with a hinged door, duck board at the front, a lift out rear panel for easy clean out (ducks ARE mucky) and the hinged roof for additional access.
---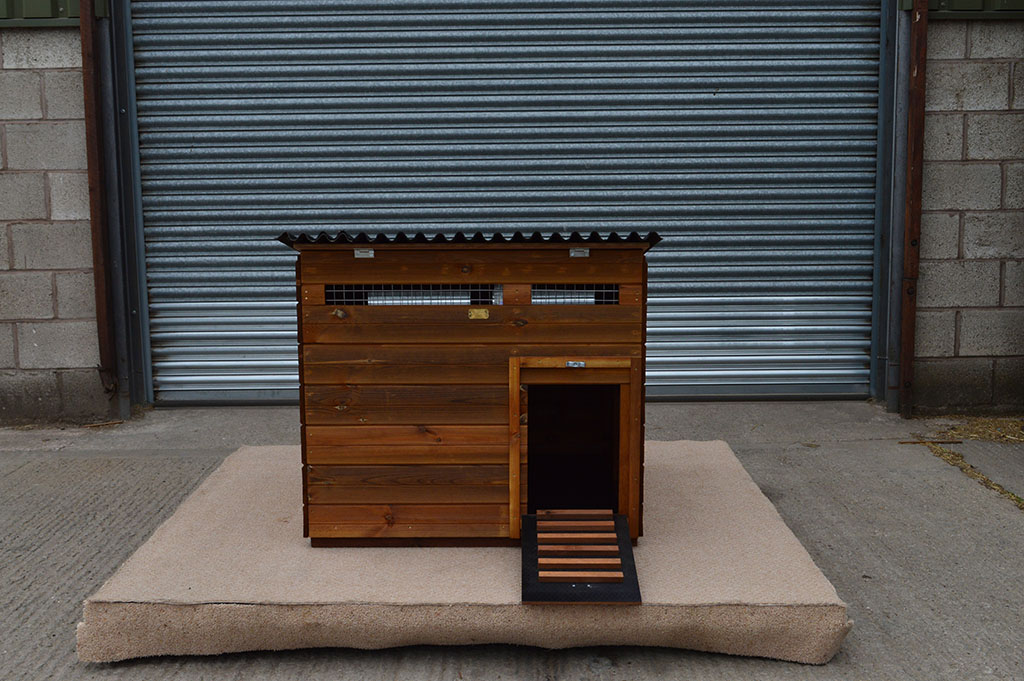 Swinford DUCK house (36″ wide x 33″ deep x 34″ high max)
PRICE £214.00 Carriage £36.00 (delivery surcharges may apply to some locations)
If you like this design house but are needing an integral run please take a look at the Aylesford
We have various solutions for managing the birds, protecting them from predators, avian influenza (bird flu) and the elements.
Our run panels can be used to make an enclosure around the house which is mobile.
For a covered area providing shade and shelter for your birds all year around we have a 9 ft by 6 ft Walk in covered run, including poly tarp for the roof.
Constructed with 12mm tongue and groove shiplap cladding on 38mm square framing. Dip treated in wood preserver that gives a mid brown finish.
The wire mesh used is 25mm square weldmesh, 16 guage ( 1.60mm thick )
All fixings and hardware are zinc plated.
Automatic door openers work with each model.
All prices include VAT
Contact us to place an order or to ask more questions, we are happy to help.